Offerings
What is Sacred Dance? (Derived from the website of the Sacred Dance Guild)
Sacred Dance is any type of dance that is done with an intention to connect with the sacred, however we may identify that experience. Sacred dance has a rich history which stretches back to the earliest periods of humanity when ritual movement was part of the efforts to understand and control the natural world. Dance is an outward practice that helps us travel inward. Sacred Dance may include: Dance/Movement done for the purpose of self-expression, meditation, and communion with the divine and others. This type of dance may be freeform or unstructured, which might be called ecstatic dance or trance dance. This form could include contact improvisation and creative dance practices, such as authentic movement. It can also include structured movements such as circles dances, as in The Dances of Universal Peace, and body prayers. There is often an emphasis on healing, and personal or spiritual growth in this Sacred Dance. Other forms are: Liturgical Dance as connected to the world religions, Cultural Dances, and Contemporary Dance based historically in the founders of modern dance, such as Isadora Duncan, Ruth St. Denis, Ted Shawn and Martha Graham, who frequently used sacred themes in their art.
What is Wisdom of the Body?
"Wisdom describes a lineage of spiritual knowledge and practice that is principally concerned with the alchemy of transformation. It is not about knowing more, but about knowing more deeply, and can be recognized by an alert, present-moment awareness and compassionate intelligence." (Northeast Wisdom Website) In Wisdom of the Body we explore and develop contemplative movement practices based in the world religions, most particularly, but not exclusively, in the Christian Wisdom Tradition. The spiritual practices of attention, surrender and compassion form the base of these embodied practices in mindfulness, non-duality, and relationship. Meditations and prayers are experienced in posture, archetypal gesture, inner-directed simple breath and movement structures, improvisations, and circle dances guided in both sound and silence. Click to download the Prayer of Movement and Gesture. 
What is Authentic Movemment
In Authentic Movement each mover freely follows – or not – inner impulses to move or be still within the context of attentive and non-judgmental witnessing presence as experienced from the group leader to enhance one's own freedom to be as we are and to develop one's own inner witness and replace all too familiar self- judgment by learning to be witnessed ourselves. It was initially created by Mary Starks Whitehouse in the 1950s as "movement in depth," based in C.G. Jung's "active imagination," and is a movement form practiced by dance therapists worldwide from ADT.
What is Mindful Movement?
This is a unique combination of various movement and meditation practices and techniques such as yoga, iRest, improvisational dance, Tai Chi, dance therapy, sacred dance, Vipassana meditation, Centering Prayer, etc. The focus is on body and breath awareness, connection with one's essential Self, and ease in experiencing and expressing from the inside out. The class is gently guided in experiences that ultimately develop trust, relaxation, and acceptance in being just who you are in movement and stillness, sound and silence. There will be deeply individual mat work, simple guided movement exploration, and some relating to others in movement as the classes progress.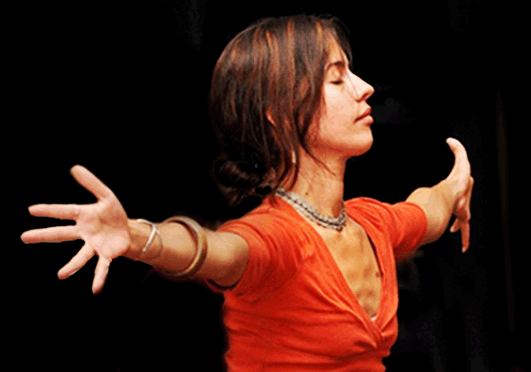 What is Yoga Nidra, Integrative Restoration?
Yoga Nidra (Yoga – link or yoke; Nidra -sleep across ALL states of consciousness asleep or awake) is the ancient practice of restoration to prepare for meditation. In a yoga class, it is the savasana, or "corpse pose" section. iRest is a modernized form of this ancient practice of healing and relaxation developed by clinical psychologist and yogi, Richard Miller, Ph.D. It is a form of mind-body training which promotes deep healing, health and well-being. While having clinically demonstrable effects, it is not psychotherapy. The evidence-based benefits of iRest include reduction in trauma symptoms, insomnia, anxiety, chronic pain, depression and chemical dependency. Subjective reports include reduced negative patterns as well as an increased ability to relax, think clearly and meet the demands of everyday living.
What is the Portrait Project?
The self-portrait is an interesting and exciting way to know ourselves and present ourselves to others. By having the courage to experience the not-knowing of the creative process, we can allow for new experiences to emerge. The arts bring out truth and grace that we may never have consciously known about ourselves and life. In this non-judgmental, but challenging process, we shine a light on our deepest selves. You are the creator of your portrait (with Deborah's guidance). Any/all art forms may be included, and the portrait will culminate in presenting it, even if the audience is only one other person. Emphasis is on the portrait being one's own creation that brings satisfaction and joy even as difficult life circumstances, such as grief, addiction recovery, may be addressed. Structured improvisation, not the end product, is at the heart of the process, the origins of which are in the work of dancer, Anna Halprin, my mentor and dance elder. Click to download the The Portrait Project brochure in pdf.
What is Dreamwork?
Whether or not we remember our dreams regularly, they are constantly with us and filled with symbolic messages from the unconscious. Dreamwork invites the dreams into consciousness to explore and open to the depth and truth revealed in them from an attitude of inquiry and mystery, not locked-in analysis and assignment of meaning. The orientation is based in the works of C.G. Jung and Jungian analysts such as Marie Louise von Franz, Robert Johnson, Marion Woodman, and Robbie Bosnak.
What is Dance Movement Therapy?
Based on the empirically supported premise that the body, mind and spirit are interconnected, the American Dance Therapy Association defines dance/movement therapy as the psychotherapeutic use of movement to further the emotional, cognitive, physical and social integration of the individual. It is focused on movement behavior as it emerges in the therapeutic relationship. Expressive, communicative, and adaptive behaviors are all important. It is adaptable to any population.
What is Jungian Focused Somatic Psychology?
C.G. Jung, although not a household name, is the Swiss psychologist/psychiatrist who founded what is known today as "depth psychology" and developed such familiar concepts as archetype, shadow, dream work, and active imagination. I studied Jungian theory in my doctoral research that was focused on understanding deep and spiritual experiences, especially in dance. Jung was interested in the body, the emotions, and the soul. Somatic psychotherapy is just that, the connection–particularly of the often dismissed body–to whole person psychotherapy.